PHP
Cosa è PHP
PHP (acronimo di "PHP: Hypertext Preprocessor" preprocessore di ipertesti); originariamente acronimo di "Personal Home Page" è un linguaggio di scripting interpretato, originariamente concepito per la programmazione di pagine web dinamiche.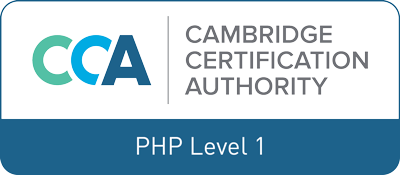 This examination will test a basic knowledge of PHP, including variables, arrays, loops, if statements and other fundamental concepts.
GLI ARGOMENTI DEL CORSO
Concetti Generali
Variabili e costanti
Le istruzioni condizionali, di controllo e i cicli
Strutture complesse
Le stringhe
La gestione delle date
Invio email in PHP
Interazione con il database MySQL
Funzioni avanzate
LA CERTIFICAZIONE
Questa certificazione attesta la conoscenza del linguaggio PHP per il Web.
L'esame di Certificazione ha una durata di 30 minuti ed è necessario rispondere correttamente ad almeno 16 domande su un totale di 20.
L'esame si può ripetere una seconda volta senza costi aggiuntivi.