MySQL
Cosa è MySQL
MySQL è il database open source più diffuso al mondo. Grazie alle comprovate performance, all'affidabilità e alla facilità d'utilizzo, MySQL è oggi la piattaforma preferita per le applicazioni basate sul Web, scelta da realtà come Facebook, Twitter, YouTube.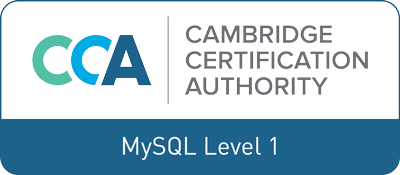 This examination will test a basic knowledge of MySQL, covering how to create, edit and manage databases.
GLI ARGOMENTI DEL CORSO
Definizioni
Progettazione degli algoritmi
Basi di dati
Progettazione
SQL
LA CERTIFICAZIONE
Questa certificazione attesta la conoscenza del linguaggio MySQL per il Web.
L'esame di Certificazione ha una durata di 30 minuti ed è necessario rispondere correttamente ad almeno 16 domande su un totale di 20.
L'esame si può ripetere una seconda volta senza costi aggiuntivi.